Generation Rent are Thatcher's Housing Legacy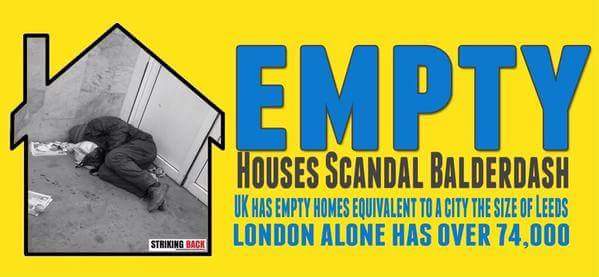 Generation Rent includes many young people with degrees and good jobs who have no hope of buying a house or flat. They have even less hope of being eligible for social housing and are forced to rent in the private sector. Most of the good jobs are in London area and this is where the problem is most acute.
House prices remain high as demand outstrips supply flamed, in part, by the Government's Help to Buy scheme. The natural corollary is that rents also keep rising and being a landlord becomes even more attractive to those with capital. Sixty per cent of Housing Benefit recipients are in work (90% of new applicants in London)1 as are all recipients of Tax Credits, and both these schemes look like a subsidy to employers paying low wages. However, most of the taxpayers' money ends up in the pockets of the landlords!!
The cost of Housing Benefit2 was £22 billion in 2011 and it is not as simple as wages being too low but also, especially in London, of rents being far too high. To understand how this ludicrous situation has been reached, it is necessary to go back 70 years.
The 1945 election produced a Labour government that offered more than the empty rhetoric of Lloyd George's post-World War1 slogan of 'a land fit for heroes'. After launching the NHS, the government began an ambitious programme for getting rid of the slums and massively expanding council housing.
Successive governments, both Labour and Conservative, had a consensus – often called a mixed economy – and that included building council houses. A roof over your head was seen as much a right as education, the NHS and full employment.
Thatcher, a populist, ended this consensus, offering instead greed and selfishness, epitomised in the 1980 Housing Act that forced councils to sell off council houses to their tenants at big discounts. The Act also specified that councils must pay off all debt before they could use the proceeds of these sales for building new council homes. Since most councils had debt, this was the death knell for council housing.
Since 1980, around two million council homes have been sold and, as can be seen in Appendix A below (Government figures from 15th February 2013) only 1.2 million built. All the council houses sold are now lost from the social housing stock, giving a net loss of 800,000 homes over the last 30 years. And this over a period where the population has been rising!!
The figures also show that the mantra of reducing the public sector, in order to set private enterprise free, does not apply to house building! In the boom years, 2000-2008, the number of units built by the private sector was less than in the 1960s, when council house building was also at its height.
Any solution based on building more houses – private and/or social housing – will take many years to come to fruition but there are solutions that will alleviate a problem that has rapidly exploded out of control.
Firstly, there are empty house all over the UK and this includes large numbers in London. These need to be brought into use and a tax on empty houses could act as a financial catalyst to the owners.
Secondly, the vast majority of landlords use borrowed money to purchase properties, because this is tax efficient for them! There is tax relief on interest paid on the buy-to-let mortgage, which is really a subsidy and needs to be ended. The immediate effect will be to increase mortgage payments, which will, in turn, help to reduce house prices.
Finally, one of the last acts of butchery that Thatcher performed on society, before the Poll Tax rebellion toppled her, was to abolish rent control and security-of-tenure for tenants in privately-rented properties. The reintroduction of proper rent controls, coupled with security of tenure, would take the pressure out of the rental market and see rents being further reduced. Then less would be spent on housing benefit and a breathing space would be created to produce a genuine housing policy not based on the economics of the madhouse.
Why will the Government and the Opposition not consider this? Why is there no political will to look at a holistic solution to the housing problem? As long as governments continue to ignore the people who have elected them – and get away with it – Thatcher's legacy will continue to blight the lives of many, especially young people looking to make their way in life.
Michael Gold
michael@radicalsoapbox.com
@radicalmic
1London Councils think tank @ http://www.londoncouncils.gov.uk/ 2https://fullfact.org/blog/housing_benefit_abuse_cost_taxpayers-3224
Appendix A UK House Building 1946-2011 https://www.gov.uk/government/uploads/system/uploads/attachment_data/file/86136/LiveTable241.xls
| | | | | |
| --- | --- | --- | --- | --- |
| Year | Private Enterprise | Housing Association | Local Council | Total |
| 1946 |   |   |   |   |
| 1947 |   |   |   |   |
| 1948 |   |   |   |   |
| 1949 | 24,460 | 8,020 | 168,780 | 205,260 |
| 1950 | 30,240 | 7,290 | 167,900 | 205,430 |
| 1951 | 25,490 | 7,350 | 169,020 | 201,860 |
| 1952 | 36,670 | 10,130 | 201,520 | 248,320 |
| 1953 | 64,870 | 16,800 | 245,160 | 326,820 |
| 1954 | 92,420 | 22,120 | 239,580 | 354,130 |
| 1955 | 116,090 | 12,850 | 195,480 | 324,420 |
| 1956 | 126,430 | 9,850 | 171,390 | 307,670 |
| 1957 | 128,780 | 8,520 | 170,290 | 307,590 |
| 1958 | 130,220 | 8,220 | 140,200 | 278,630 |
| 1959 | 153,170 | 6,520 | 121,880 | 281,570 |
| 1960 | 171,410 | 7,240 | 125,620 | 304,260 |
| 1961 | 180,730 | 6,320 | 116,140 | 303,190 |
| 1962 | 178,210 | 6,030 | 129,410 | 313,640 |
| 1963 | 177,790 | 7,550 | 122,380 | 307,710 |
| 1964 | 221,260 | 9,790 | 152,140 | 383,190 |
| 1965 | 217,160 | 12,360 | 161,710 | 391,230 |
| 1966 | 208,650 | 14,890 | 172,470 | 396,010 |
| 1967 | 204,210 | 15,070 | 196,180 | 415,460 |
| 1968 | 226,070 | 15,320 | 184,450 | 425,830 |
| 1969 | 185,920 | 16,660 | 175,750 | 378,330 |
| 1970 | 174,340 | 15,210 | 172,670 | 362,230 |
| 1971 | 196,310 | 16,490 | 151,670 | 364,480 |
| 1972 | 200,760 | 11,220 | 118,960 | 330,940 |
| 1973 | 191,080 | 12,130 | 101,430 | 304,640 |
| 1974 | 145,230 | 13,870 | 120,540 | 279,630 |
| 1975 | 154,600 | 22,050 | 145,360 | 322,000 |
| 1976 | 155,300 | 23,100 | 146,440 | 324,840 |
| 1977 | 143,970 | 30,650 | 139,540 | 314,160 |
| 1978 | 152,230 | 26,,290 | 110,170 | 288,690 |
| 1979 | 144,120 | 21,390 | 86,320 | 251,820 |
| 1980 | 131,990 | 21,480 | 88,530 | 242,000 |
| 1981 | 118,590 | 19,700 | 68,330 | 206,630 |
| 1982 | 129,020 | 13,740 | 40,090 | 182,850 |
| 1983 | 153,040 | 16,820 | 39,170 | 209,030 |
| 1984 | 165,560 | 17,290 | 37,570 | 220,410 |
| 1985 | 163,400 | 13,650 | 30,420 | 207,470 |
| 1986 | 178,010 | 13,160 | 25,380 | 216,540 |
| 1987 | 191,250 | 13,150 | 21,830 | 226,230 |
| 1988 | 207,420 | 13,490 | 21,450 | 242,360 |
| 1989 | 187,540 | 14.600 | 19,320 | 221,460 |
| 1990 | 166,860 | 17,930 | 17,710 | 202,500 |
| 1991 | 159,140 | 20,820 | 11,060 | 191,020 |
| 1992 | 146,940 | 26,500 | 5,660 | 179,100 |
| 1993 | 146,380 | 35,910 | 3,360 | 185,650 |
| 1994 | 153,270 | 36,860 | 2,880 | 193,000 |
| 1995 | 156,930 | 38,760 | 3,430 | 199,120 |
| 1996 | 154,340 | 32,950 | 1,740 | 189,030 |
| 1997 | 161.230 | 28,340 | 1,540 | 191,110 |
| 1998 | 155,830 | 24,100 | 1,100 | 181,020 |
| 1999 | 157,930 | 23,730 | 330 | 181,990 |
| 2000 | 154,580 | 21,990 | 280 | 176,850 |
| 2001 | 152,650 | 21,090 | 360 | 174,080 |
| 2002 | 162,770 | 18,940 | 250 | 181,960 |
| 2003 | 172,620 | 17,260 | 250 | 190,490 |
| 2004 | 182,700 | 20,660 | 130 | 203,490 |
| 2005 | 185,850 | 23,490 | 230 | 209,580 |
| 2006 | 186,530 | 26,000 | 290 | 212,820 |
| 2007 | 198,480 | 27,660 | 280 | 226,420 |
| 2008 | 155,430 | 32,230 | 630 | 188,290 |
| 2009 | 122,520 | 35,050 | 840 | 158,410 |
| 2010 | 106,060 | 29,860 | 1,360 | 137,280 |
| 2011 | 106,620 | 32,200 | 3,090 | 141,920 |
|   |   |   |   |   |
|   |   |   |   |   |
|   |   |   |   |   |